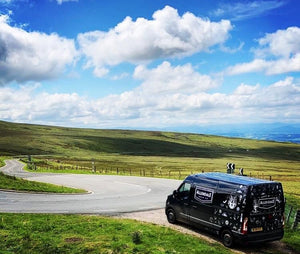 Trade, Wholesale & Export Sales
We offer trade, wholesale and export terms for customers.
We make regular direct deliveries on our vans everywhere between the Scottish borders in the North and as far south as Lancaster on the West and Northallerton on the East. 
We send out pallets across mainland UK on a daily basis using the Pallet Force network.
We export on either EXW or FCA Incoterms 2020, though we are open to discussion. 
FAQ's below.......
Categories
How to place an order?

Jenny & Ade are your main points of contact and will ensure you get what you need when you need it.

August 2023 - We've just launched our integrated online trade store where you can view live stock levels, place orders, view history and make payments.

Please request your personalised invite if you haven't already and place orders/payments when it suits you.

orders@allendalebrewery.com

01434 618686 option 1
Pricing

Please get in touch and we can e-mail or drop off our pricing sheets per product type.

We offer transparent discounts, based upon order volumes or house beers, please enquire.

We are able to offer the Aug 2023 HMRC Draught Relief Rates for business customers and vice versa can provide documentation for you if the relief is not taken for resale into small pack.
General Enquiries

If you'd like to discuss our range or find out more about how we can help increase wet sales at your venue please get in touch. We'll talk through what we can offer and how we can work together for mutual benefit.

If you're a new customer and already know you'd like us to supply you please request an Application for a Trade Account Form and we'll get the ball rolling.
What constitutes Wholesale?

We offer wholesale rates for orders over a certain volume reflecting the reduced costs of a bulk supply.

To qualify for wholesale pricing you need to order a full pallet per unit type: (translated to roughly)

18x 9g casks

24x 30L keykegs

90x 12x500ml bottle cases

144x 12x440ml can cases

180x 12x330ml std can cases

200x 12x330ml sleek can cases
Pricing / Excise Duty Option

Please get intouch for our special wholesale pricing or to discuss bulk order requirements.

If required once we receive your excise and warehouse registrations and get due diligence completed we can supply wholesale products to you duty suspended.
Supplying Overseas

We have been exporting our Beers and Hard Seltzers since 2012 and are happy to discuss options with importers on a case by case basis.

Please get in touch with Claire, Jane or e-mail export@allendalebrewery.com

We currently have supply into Norway, Sweden, Denmark, Australia and the People's Republic of China.